I've rebuilt the store! It's pretty awesome looking if I say so myself :) I am currently working on re-stocking the store now. It might take a bit of time, as I am reworking, editing and generally improving every design before I re-stock it. There are some that will not make it back into the store due to lack of quality, lack of appeal or just my general dislike of the design. All hair will have the !TM v2 hair textures. I haven't decided if I will completely retire the classic textures or have a section with select designs featuring the classic hair textures. Stay tuned for news on that later.
I'm implementing a new system for your purchases. In the past, I have used the old fashioned way of delivery, but with the new store I will be using something new (to me). It will allow re-delivery of lost, damaged, missing from data base etc. situations. I'm hoping it will benefit both you my client and myself with it's simple design. Nothing on your part will really change. You'll still purchase as you've always done.
I have decided to post the ad for the hair as I restock it. As sort of a refresher of my designs since I've been away a while. I'm enjoying being back though and look forward to seeing you in the
store
. Hope you can stop by some time. Say hi if you do :)
Caress
Caress is a casual braided updo that ends in a messy bun on the left side. The bangs are signature !TM messy-chic.
Tangled
Tangled is the perfect on the go style that you can dress up or dress down. Signature !TM messy bangs with a put together messy look. You can't go wrong with Tangled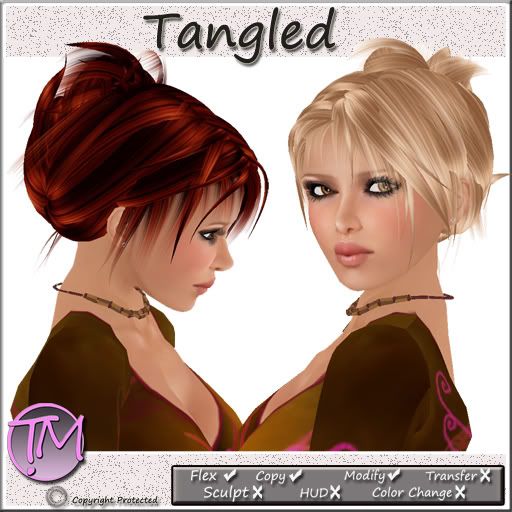 There's plenty more to come including, but not limited to:
Hair! of course ;)
Jewelry
Hats
Clothes
Skins
Eyelashes
Eyes
Shoes
Boots
Western Wear by *~OT WesternGear~*
Western Gear *~OT WesternGear~*
You can also find Octoberwerks Paradise Blanket in the store and many fine, fun products by Octoberwerks!
Head over to
Octami
and see what's new!