But I'm back :) And I have new releases!
Three
of them to be precise. I'm happy to present to you Minx, Luxe and Luxe II. The first three of what I hope to be many new releases in the future.
Here they are:
Minx:
Short and sassy, just like you'd expect. There are some flexy bits for realism and a touch of spunk.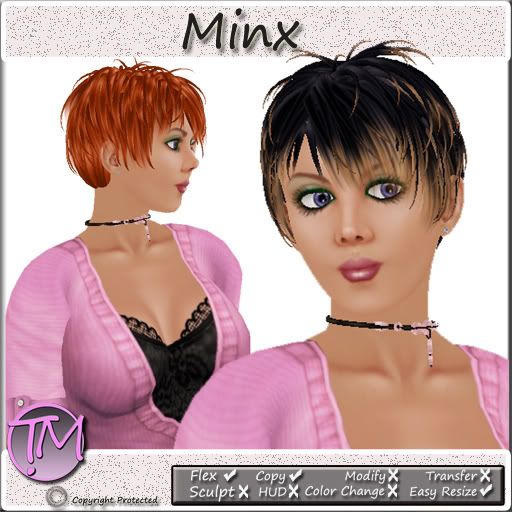 Minx
Luxe:
Straight long hair and completely flexy. It's long hair at it's best. Sophisticated and sexy ;)

Luxe
Luxe II:
Straight long hair with soft bangs. The back is completely flexy and the bangs are static.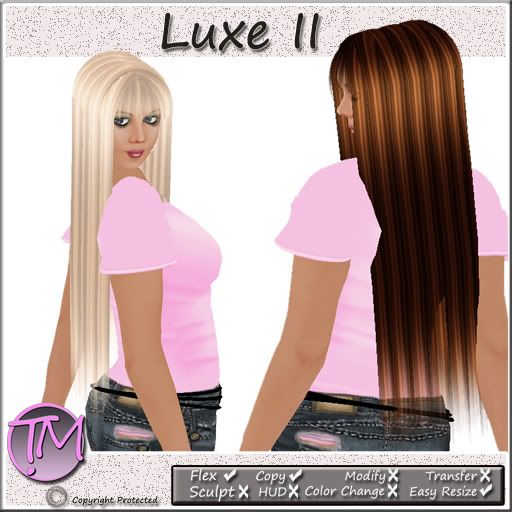 Luxe II
All three are available in 206 shades in many pack options including the everything pack that includes every shade at substantial savings. Each pack includes at least 4 shades and each shade has at least two tip options for some variety. Packs start at L$199 for all regular packs and go up for the multi packs and everything packs. Style demos are free and so are the color demos so you can try before you buy! Head over to Octami and check out what's new and exciting from the !TM brand. Including, but not limited to: Hair, accessories, jewelry, clothing, shoes, boots, western wear from the OT Western Gear brand, and much more. Coming soon !TM Body shop ;)
Here's a
direct link
to the store
See you there!!